Before getting to the review part of MilesWeb, let me tell you some basics of reseller hosting.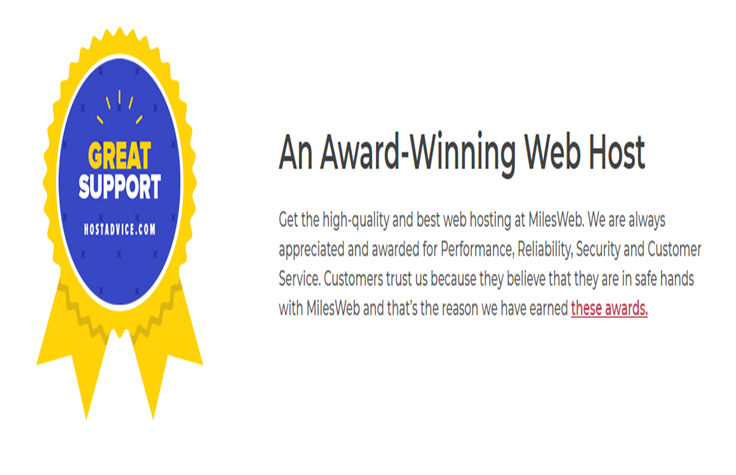 Hosting for resellers may be a very profitable business. It might be a part of a hosting firm or a side venture. Reseller hosting is usually used by software developers and web designers for recurring revenue.
Getting low-cost reseller hosting is now a new approach for programmers to offer value to the business and consumers to improve cash flows.
When you sign up for a reseller hosting plan, you get the finest bandwidth and storage capacity for your online business. The more disc space you have, the more cash you can make.
For the most part, small firms strive to keep their overhead costs as low as possible to benefit from higher profit margins. Reseller hosting seekers face the same challenges. In other words, finding a low-cost reseller hosting package with minimal monthly payments yet good performance is the ideal approach to assure maximum profits.
Also of note, value is always given precedence above all other considerations. Despite the abundance of low-cost reseller hosts on the market, you must choose the one that provides the greatest bandwidth and the most available hard drive space. Backups and SSDs are other essential components to have.
Reseller Hosting Gist
Reseller hosting is a web hosting option in which one company (the provider) rents bandwidth and hard drive space to another firm (a small or medium-sized business), who then agrees with third parties (small or medium-sized businesses or enterprises) for this space.
Reseller plans are a low-cost and quick method to monetize your web hosting company's services. One control strategy is all that's required to manage the backend and set up a website. Using a reseller hosting service might have a big impact on your overall experience. It will cost extra if you want a managed hosting service to help your reseller firm.
Instead of creating a website and receiving a one-time payment, you may get monthly payments while your service providers take care of your customers. If you rent servers from a wholesale provider like MilesWeb and resell them to your clients, you'll make a good profit. You may also sell services under your own brand name when using white labeling.
For businesses that need numerous cPanels, reseller hosting is the ideal solution. In addition, it is more convenient and cost-effective for administration than acquiring many hosting accounts from old-fashioned providers.
The best cPanel reseller hosting provider, MilesWeb 
When it comes to resellers of small enterprises and other firms with simple websites, MilesWeb is a great option. MilesWeb's low pricing makes it simple to host these sites. Also, they offer unlimited hosting Malaysia and worldwide.
The main reason for suggesting MilesWeb to smaller websites is that it quickly exhausts the server resources for a website with high traffic. A dedicated or virtual private server can handle a huge website, and these services are available from MilesWeb for large sites.
MilesWeb's reseller plans include Web Host Manager Complete Solution (WHMCS) for simple customer billing. However, if you want the lowest option, you'll have to buy the program separately.
MilesWeb provides 24-hour reseller support, website migration, a free CDN, a free SSL certificate, and email. MilesWeb is a dedicated hosting service that provides optimal dedicated, VPS, and shared hosting solutions.
In addition, MilesWeb is one of the leading wholesale domain resellers, with ample domain extensions available. Also included are proven Automated Billing and Customer Support Management Panels. Support may be accessed in a variety of ways, including via social media, tickets, chat, and email.
The cheapest monthly rate is Rs. 315 for the basic plan Beginner. The Beginner plan offers w Accounts, 10 GB of SSD Disk Space for Unlimited Domains, Secure Sockets Layer (SSL) Certificate, Management System for Resellers, Unlimited MySQL DBs with Softaculous and Unlimited Email Accounts. It's a great deal compared to what other providers are offering for the same price.
MilesWeb's support team takes care of all the backend maintenance and necessary security services since they offer shared web hosting services. All that's left is the duty of the clients.
MilesWeb's reseller platform makes it simple to manage the service even for non-technical users. Expert resellers, on the other hand, love how easy it is to use this platform.
The other reseller hosting plans are Geek, SMB, and Agency.
SMB is the best reseller hosting plan offered by MilesWeb. The SMB plan offers 20 Accounts, 50GB SSD Disk Space, Host Unlimited Domains, Unlimited Bandwidth, Free SSL Certificate, Reseller Control Panel, Softaculous, Unlimited MySQL DB's, Unlimited Email Accounts. The SMB plan costs you Rs. 1050/mo on a three-year subscription.
The high-end Agency plan costs you Rs. 1,540/mo on a three-year plan subscription. The resources offered in the Agency plan are 30 Accounts, 100GB SSD Disk Space, Host Unlimited Domains, Unlimited Bandwidth, Free SSL Certificate, Reseller Control Panel, Softaculous, Unlimited MySQL DB's, Unlimited Email Accounts.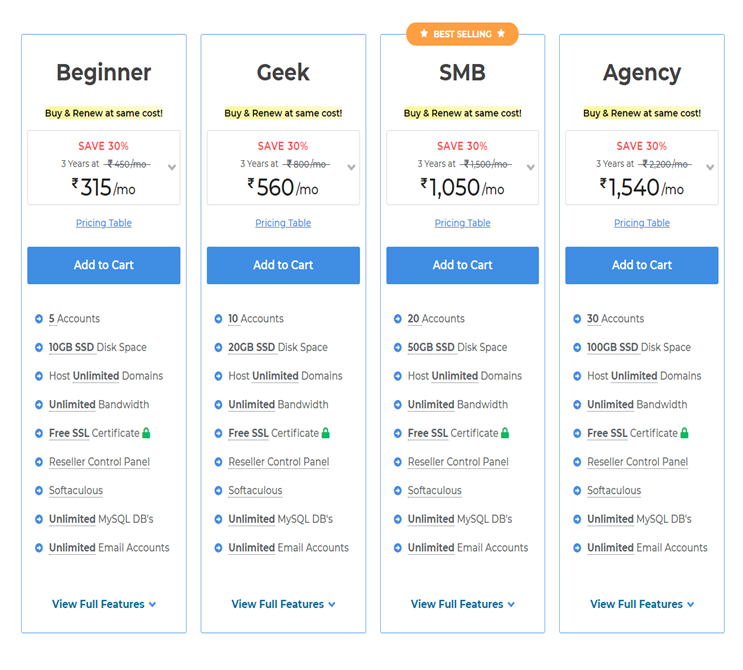 What MilesWeb's Reseller Hosting Offers
Unlimited Websites Hosting

100% White Labeled

100% SSD Storage

Reseller Control Panel

One-Click Installer

End-user control panel

Datacenter Choice

Free Website Builder

Malware Scan & Protection

Email Service
With MilesWeb, you get fully managed reseller hosting. By functioning as a support system for your web hosting business, managed Linux reseller hosting lets you focus on what you do best. MilesWeb's managed reseller hosting solution includes server monitoring, optimization, troubleshooting for your clients, backups, and free website migration.
You also get backup for all your client's websites. Using a pen drive and hard disc to create a backup of your website is an old-school approach that you should avoid. The Website Backup and Restore service, on the other hand, is highly recommended. Even though it's an optional service, skipping it might cause problems for your website at any time.
To conclude
Becoming a reseller of hosting services is a good way to get your foot into the doors of the industry. It is important because it proves to be a cash cow for business-minded and tech-savvy entrepreneurs. Getting the reseller hosting service from MilesWeb is the best way as it offers a wide range of reseller hosting plans and services at the most affordable cost.